CmdCentr is a cloud-based operations management system for theme parks. Real-time data collection & monitoring, secure workflow management, training and insights delivered across four apps that your team will love.
CmdCentr is built for theme parks and always will be
CmdCentr's story starts at Paultons Park, where Operations Director James Mancey identified the need to streamline the paper-based processes that were holding them back and needlessly creating extra work and management issues. Without any suitable off-the-shelf solutions available and other companies unwilling to take the task on, James approached First Option Software to create the dedicated park operations management solution that would be known as CmdCentr.
Today, CmdCentr is used on over 700 rides at theme parks worldwide and is delivering tangible benefits in reducing downtime, increasing rides per guest and improving safety and auditing.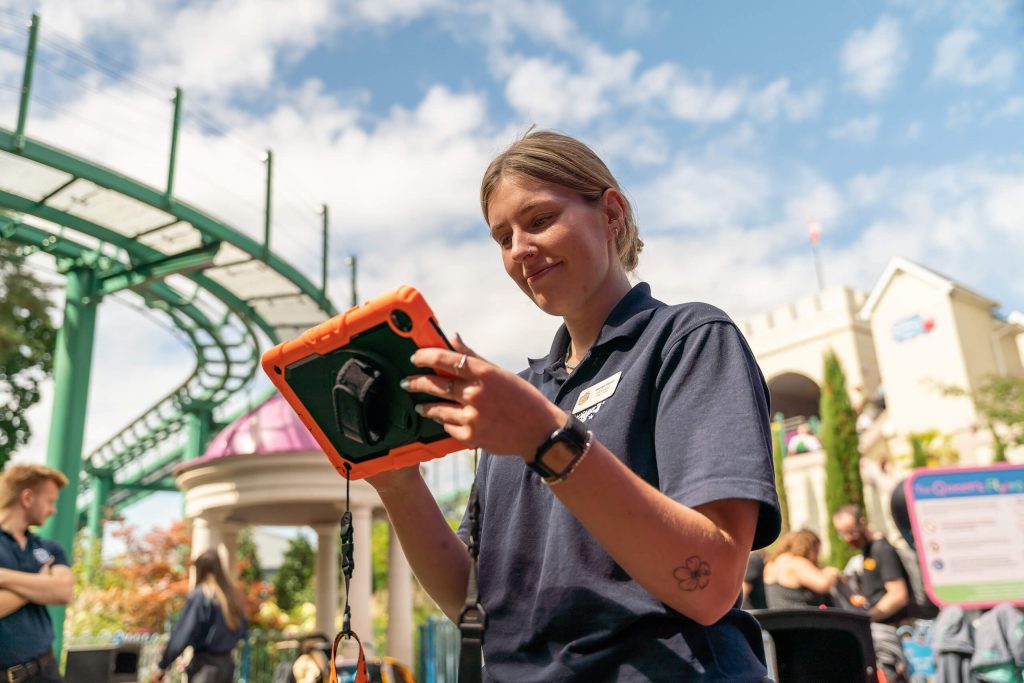 2019
First Option Software begin work to translate Paultons Park's operational needs into a park operations management solution
Feb 2020
CmdCentr launches at Paultons Park in time for February half term. The system saved 2 weeks of administrative tasks by eliminating the need for paper based training records. Every team leader saved 1 hour per day, not having to manually collate and copy ride data into spreadsheets. Management gained live oversight of data for the first time via the admin dashboard.
Apr 2020
First Option launches CmdCentr as a dedicated product for theme park operations management, against the backdrop of a worldwide pandemic. At virtual meetings worldwide, operations managers provide a warm reception to this first-of-its-kind system.
Aug 2020
Selected for a pilot at Legoland Windsor Resort, the CmdCentr team works with Merlin Entertainments to launch a dedicated Manager App for real-time oversight of operational data, assistance request mechanism and push notifications to alert to operational issues.
Apr 2021
CmdCentr is launched at Legoland Windsor Resort. Within four months, the team achieve a 10% increase in ride capacity and a significant reduction in operational ride downtime.
Sept 2022
A radically enhanced version of CmdCentr provides new features design to improve efficiency and manage workflow including; temporary downtime checks, enhanced ride position management, swap position function, new ride data metrics, document management, rich training content.
April 2023
Continued developments position CmdCentr as an operations platform for entire resorts, enabling the management of team members and operations at any location, from F&B, to retail and of course rides. Automatic data capture integration goes live at multiple sites worldwide.
September 2023
Shortlisted for 'Best Product Innovation' at the Park World Excellence Awards 2023, alongside IAAPA Europe Expo in Vienna
The CmdCentr management team
Contact Us
If you're ready to put an end to time-consuming paper records and start digitising your park operations then we're ready to help.
Call us on +44 (0)333 9001444 or email us sales@cmdcentr.com to arrange a free demo of our park operations Apps.
You'll be in good company
CmdCentr is a product of First Option Software Limited
Request a Demo
Book a demo with one of our team
Contact Support
For existing customer support, please log a ticket via the support portal
CmdCentr UK Head office
Signal House,
Jacklyns Lane,
Alresford,
Hampshire,
UK
SO24 9JJ
Frequently Asked Questions
We commonly get asked the following questions about CmdCentr.
Is CmdCentr new?
CmdCentr is owned and created by First Option Software, custom software developers, that have been developing business critical systems since the early 1990's.  
Proven since early 2020 in some of the UK's biggest theme parks, CmdCentr has has delighted our customers at the positive improvements and efficiencies that it has brought to their parks.  See our Case Studies to see how its revolutionizing our customers' parks. 
What sets CmdCentr apart?
CmdCentr was designed and developed from scratch to improve the efficiency and safety of ride operations.  Its not a bolt-on afterthought of another product being given away for free – it's an optimised solution proven to deliver significant efficiency and ROI. 
Do you provide the hardware?
To give you the most control, flexibility and value, we enable you to purchase and manage your own hardware so that you are in control and use your preferred suppliers.  Our apps are highly compatible and can support Android and iOS tablets, as well as web browsers.  
How do you charge for CmdCentr?
CmdCentr is provided on a Software as a Service (SaaS) basis and we charge a setup fee and an annual subscription.  The setup fee covers the initial deployment, training and any configuration of your system.  The subscription is scaled according to the size of your park to make it affordable for all parks to benefit from CmdCentr.  We typically scale the fee based on the number of rides you operate.
Can you enhance CmdCentr to my needs?
CmdCentr is not like most off-the-shelf software. We believe in adapting to your processes, rather than you having to adapt to ours. As the developers of CmdCentr, we have full control to be able to enhance or customise it to meet your needs.
How long does it take to deploy CmdCentr?
As CmdCentr is predominantly Cloud based, deploying your CmdCentr instance is easy.  Once deployed we can ready your apps, guide you on configuration and provide you with the training that you'll need to train your users. 
The preparations you will need to factor in will depend on your network choices, hardware availability and user training. 
This is all feasible within a week but will very much depend on your park's individual circumstances.
Is it expensive? Will I get a return on my investment?
We know an operations system is critical to your day to day running of the business and therefore CmdCentr has to be a quality product to ensure it runs smoothly & reliably and delivers on what you need.  
We've priced CmdCentr to ensure that we can deliver a quality product and service to our customers. We don't use sales tactics or gimmicks but we focus on delivering CmdCentr at a cost that provides you with the quality you expect and a return on investment, year after year
We expect customers to see a return on their investment counted in months rather than years.
What network connectivity do I need?
To get the best out of the app it requires a network connection to our servers.  This can be wired, wireless or cellular.  We know how connectivity can, at times, be unpredictable, so our software has the resilience to work offline if the network is temporarily down. We ensure any data is stored locally and synced when the network comes back up, ensuring you don't lose any critical compliance data.  We also provide you with diagnostics and warnings to spot any network outages.
Can I try CmdCentr?
We are convinced you'll see the benefit of CmdCentr once you give it a try and so we can arrange a limited trial of the software.  If you'd like to arrange a trial please get in touch.
Can you integrate CmdCentr with my other systems?
Absolutely!  Integrating systems together makes sense so we'd be very happy to work with you to integrate your other systems. We can receive data from other systems to feed into CmdCentr (such as HR info) or send data we've captured to your other systems (such as queue times into your park app).     
Is CmdCentr reliable?
CmdCentr has been designed from the outset to be resilient to unexpected failures at all levels.  Within your park, our apps are resilient to network outages and within our data centres we have multiple load balanced servers and databases to cater for every eventuality.  Diagnostic screens provide you with the means to spot any specific ride tablet/network issues.